Yesterday I talked about the ads that Ted Wheeler ran in the NYT about coming to Portland and noting that times readers just might be dumb enough to buy what he's selling.
But the LPGA isn't:
The LPGA moved the Portland Classic to a suburb for the first time in 50 years due to safety concerns in the city.

The event usually takes place at the Columbia Edgewater Country Club in Northeast Portland.
Reality doesn't care what the left's meme of the day is.
---
Speaking of reality Joy Behar is apparently in trouble for making a joke about the reality of what being "Gay" is and I don't see what the problem is myself:
I thought this entire month was supposed to be dedicated to how wonderful Sodomy is and how proud we are supposed to be of those who practice it and that anyone who thinks otherwise is a bigot. Why it's almost as if reminding people what it actually is and actually entails might actually cause them to have a viscreal reaction that could change their mind about it.
It reminded me of when years ago the left did all they could to keep a broadcast of an abortion off the air because it's hard to sell the idea that a baby isn't a baby at 14 weeks when you see it dismembered.
---
Speaking of reality the left has done all it can to keep the American people in a liberal echo chamber but something jumped out from citizen free press which is a spot I visit daily for news: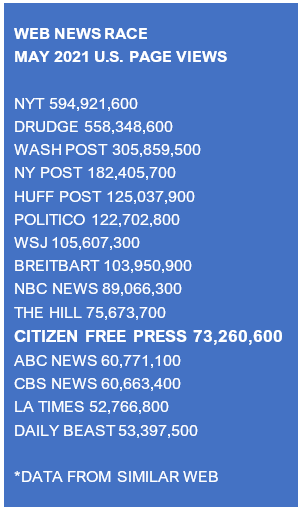 The earliest date I could find for Citizen Free Press in the Wayback Machine was June 3rd of 2017 which means in that in four years they have outstripped ABC, NBC & the LA times and is on the verge of passing the Hill in monthly page views to break into the top 10 on this list. That's without any cross promotion from any major media which does all it can to suppress what they cover.
The echo chamber may resonate but the reality is that millions every month are getting the information they are trying to suppress and the more the MSM remains an echo chamber the more likely alternate sites like Citizen free press will be sought out and grow.
---
Speaking of reality we keep hearing about how racist America is from places like CNN in general and from people like Don Lemon in particular to wit:
Lemon declared in a recent Washington Post interview that former President Donald Trump was "the necessary wake-up for America to realize just how racist it is." Lemon, who recently penned a book, "This Is the Fire: What I Say to My Friends About Racism," fancies himself an authority on the subject. 
It will come as no surprise however that he chooses to live in a town that is 3% black far away from the the various black lives matters protest that he has supported over the last several years and the violence of the communities that he downplays. I suspect that's because reality doesn't care about the rhetoric from a millionaire who talks about being oppressed when it comes to black lives mattering he's referring to his own.
---
Finally I'm got a message for the American Thinker who used the title Sheldon Whitehouse has a racism problem. He does not. Yeah he's a racist but it's not a problem at least not for him. Anyone on the right who thinks that the Sheldon Whitehouse story is going to generate any outrage or traction from the left is fooling themselves.
Think for a second, if they didn't follow thorough on Ralph "Blackface" Northam if it risked an election in Virginia and had no problem putting congressman Eric Swalwell back on the intelligence committee in the house when he's banging a Chinese Spy what on earth would make anyone think that the left/media/democrat complex would say boo to Sheldon Whitehouse when he is the 50th vote for them in the Senate
The reality is that Marxists are always about power, ALWAYS.