Maybe Democrats got it right. Maybe former President Trump really was a Russian puppet. If you were to compare the Arctic policy that President Trump pursued with what Russian "President-For-Life" Putin is pursuing, you would see some strong similarities.
In the Arctic regions of America, meaning Alaska, President Trump sought to overturn the former legal restrictions on utilizing resources in the region. Trump's legal team struck down restrictions related to Pacific Walruses and began issuing drilling leases, only to have President Biden withhold those leases. Supposedly, this was done to protect the walruses, but lets be honest, its a communist plot. See, walruses were being trained by the US government to attack communists. They accidentally got released once and managed to sink a Russian vessel, which was covered up by blaming Russian vodka day drinking, something that is totally believable. When President Biden babbled on about walruses amidst his corn pop and lifeguard references, well, now you know why.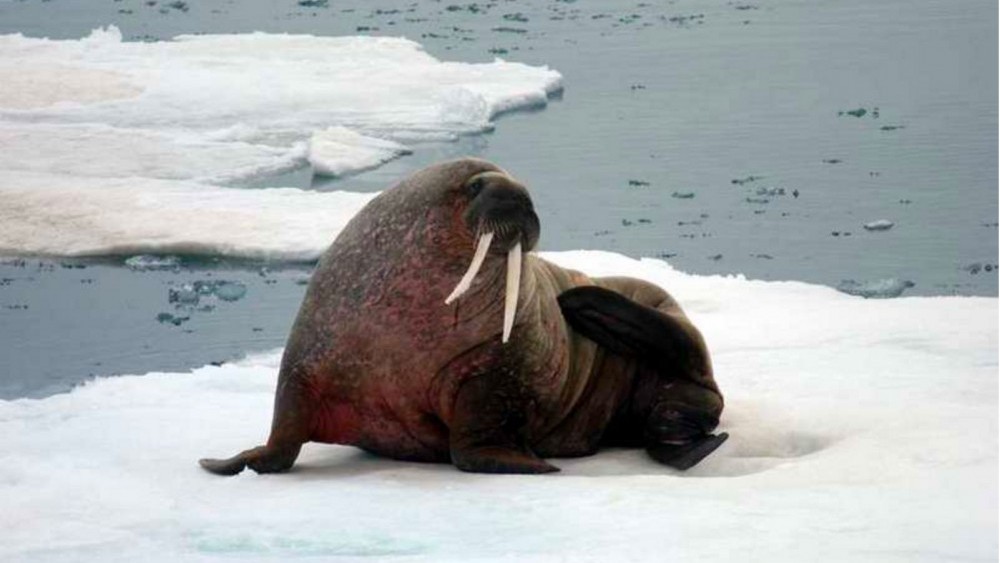 On a more serious note, when we look at the Russian arctic, we see President Putin pursuing a policy that looks a lot like Trump's policy. He's developing Arctic infrastructure, building a huge terminal at Sever Bay. He's dredging new or existing shipping lanes to let in larger vessels. He's got more leases on the Yamal Peninsula then Alaska could ever dream of. All of these big projects are going to companies like Novatek and Gazprom, and if they sound familiar, its because these companies use the oil and natural gas as economic leverage in Europe.
Remember when Poland signed a 5 year deal with the US to get natural gas? You don't? Oh, that's right, that story got totally buried in 2017, because it was good news related to the Trump administration, and "orange man bad" won the day in the media. Searching for it now, it comes up on obscure media outlets, not the CNN's and FOX News of the world. It also comes up on a lot of Russian outlets, because it was viewed as a big deal.
Russia has made no secret of its plan to lead the world in LNG and oil. Its a bit grandiose, and might not fully come to fruition. But they saw what happened in a Trump America. They watched how American LNG and oil exports diminished the importance of Iranian oil while strengthening the will of former Eastern-block countries against Russian influence. Iran got placed in a bind: if it pumped more oil, it would bring down the price, making Russia angry, while pumping less would threaten its financial sovereignty. For an America that seems to get bogged down in the Middle East all the time, this is a perfect way to leave the region, which is exactly what Trump did. Not bad for someone who gets made out to be a bumbling fool by the media.
So Russia took that page from Trump and made it their own. They've been eyeing the Arctic for a while, but now is as good a time as any, and with a (hopefully temporary) reprieve from the pressures of US oil and LNG exports, Russia can bounce back from low prices and COVID-19. While the US wrings its hands over environmental issues, despite having solid rules in place, Russia knows that the Arctic is savage. It suffered an invasion of polar bears, something I once thought possible only if National Geographic started making horror films. Maybe they were radioactive bears from all the nuclear testing the Russians perform in Arctic? Maybe they will begin attacking US outposts in response to the walrus attacks?
Let's be honest, the current policy of restricting drilling is done to punish "evil" US oil companies. Even Norway is drilling more, because their welfare state depends on it. But restricting US oil and LNG output is short sighted. It takes away an effective tool of Middle East policy, where every nation and fake nation involved wants to paint you into a corner, and the only way to cut the Gordian Knot is with economics. It cedes more ground and influence in Europe to Russia, who is all about taking more influence and ground when it can. And for a growing China, it makes it easy for Russia to keep them in check with higher prices, even if only for a little while longer. While this policy appeases a certain political class of people, history will later reflect the foolishness of this choice.
This post represents the views of the author and not those of the Department of Defense, Department of the Navy, or any other government agency.